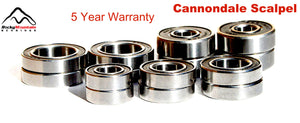 Cannondale Scalpel 29 Carbon Pivot Suspension Bearing Kits 2012 through 2016
Cannondale Scalpel 29 Carbon Models Mountain Bike Frame Suspension Pivot Bearing Kits - 5 Year Warranty -  Free Shipping
This bearing kit is for all full suspension Cannondale Scalpel 29 Carbon models only. Fits model years 2012 2013 2014 2015 and 2016.
Specifications:
Exceeds OEM Specifications
5 Year Warranty
Extreme Close Contact NBR Seals
Proprietary Synthetic HD Off-Road Water and Rustproof Grease
ABEC 5 Precision
These kits include all 6 of the necessary replacement bearings for the suspension pivots.
Expedited
Your expediency on the delivery of my bearings were incredible. I waited over 3 months for Cannondale to send me parts and they never followed thru. We will refer you and will be a returning customer