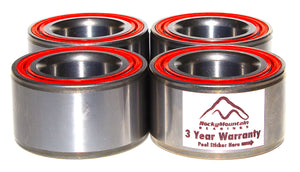 Warranty Instructions - Please Read the Warranty Below
Our warranty normally requires that the customer must send the bearing(s) in for inspection to receive a warranty replacement.
There is also the option of requesting and having a new set sent (all 4 bearings) without having to send them in for inspection which is $19.99 for shipping and handling via Amazon Pay or check.
You can pay the $19.99 using the "Buy Now" button right here on the page.
Check Option - Make your check payable to:
Rocky Mountain Direct LLC 
1751 Granger Circle, Castle Rock CO 80109
*Please provide your Name, shipping address and Amazon order number. 
Let us know which option works best for you.
Thank You,
Rocky Mountain Bearings
Great Warranty
I had a bearing in my RZR xp1000 that failed. I paid $20 and received 4 brand new bearings. Easy and assuring process.
Warranty Instructions - Please Read the Warranty Below
Great company
Bearings all around have been good quality I think I just had a bad one out of 4 warranty was no problem they was very helpful
Warranty
Overall satisfied the bearing lasted a lil while. Contacted the company and they shipped another four bearings for $20.00. Will definitely be ordering from the company in the future.
Great Service
Great Warranty Option and fast shipping!